vdcrpt - video corruptor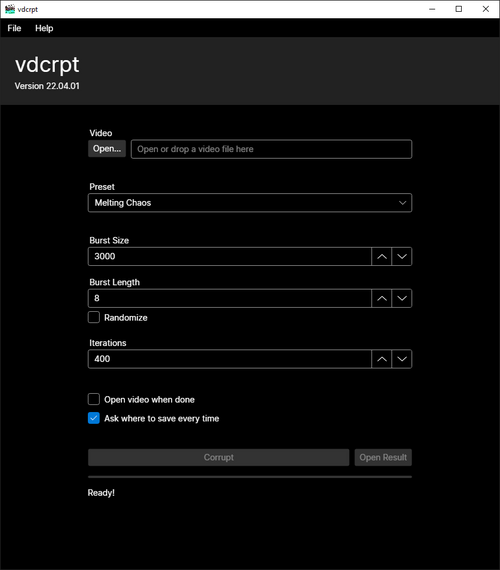 After a long period of inactivity, a new version of vdcrpt is out! This release is a rewrite of the tool. It brings cross-platform support and quality-of-life improvements like presets and auto-naming.
Please see the changelog below for the updates and caveats in this version. Also, check out the updated itch.io page if you haven't already seen it!

(Also, I need more demo images/videos. If you make something cool, send it my way and I'll credit you)

This is a complete rewrite so bugs and regressions are expected. Please report anything you think is useful, and feel free to suggest features.

[22.04.01]
Changes
Rewrote program and refreshed UI
Renamed parameters
Removed upper bound on parameters
Added presets
Added drag and drop for file input
Added "Open Result" button
Added option to incrementally name output file
Added option to disable random range for Burst Length
Fixed output files not playing properly when shared online
Known Issues
Custom presets are not fully supported
Program is difficult to use with large video files
File dialogs open to an inconvenient location on Linux
Drag and drop does not work on Linux (upstream: AvaloniaUI/Avalonia#6085)
Window icon does not show on Linux (upstream: AvaloniaUI/Avalonia#5329)
Files
vdcrpt-22.04.01-win-x64.zip
52 MB
Apr 09, 2022
vdcrpt-22.04.01-osx-x64.zip
55 MB
Apr 09, 2022
vdcrpt-22.04.01-linux-x64.zip
58 MB
Apr 09, 2022
Get vdcrpt - video corruptor